There's more news on this summer's Art on the Trails exhibit.
As I shared earlier this summer, organizers were seeking poetry submissions inspired by the "Exposure" themed exhibit. Poets whose submissions were selected will read their works at the closing ceremony. That takes place on Sunday, September 11 from 3-5 pm
Participating poets are: Audric Adonteng, Zachary Bos, Chelsea Bradway, Sarah Dickinson Snyder, Tom Driscoll, Adele Evershed, M. Farrell, Fred Gerhard, Lynn Horsky, Sophia Januszewski, Trisha Knudsen, Xiaoly Li, Sheryl Lindsell Roberts, Michele Mendelson, Cheryl Miller, Hannah Nordstrom, Carla Schwartz, and Deana Tavares.
The chapbook of inspired poetry will be available at the closing event. You can pre-order a copy here.

In other news, Juror Anne Alexander selected this year's Best-in-Show prize. It went to I'm Here, Still Here, by Hopedale artist Sarah Alexander (no relation to the judge). The Art on the Trails blog explains:
Juror Anne Alexander said about the work, "I selected Sarah Alexander's piece I'm Here, Still Here as best in show for her meaningful sculpture which to me comments on the state of our endangered environment. It has a powerful presence in its field location, and demonstrates excellent craftsmanship, and hours of thoughtful labor to complete."

The 8′ tall sculpture is made from 160 lbs of cold hammered and welded steel, and sits at the top of the lower meadow at Beals Preserve. It took hundreds of hours over three months to craft. Sarah says about the work, "This work speaks to isolation in all its forms and the effect that it has on us. It might be self-imposed, or from illness, depression, grief, or incarceration. We create our own prisons sometimes." The outer cage is galvanized and should not rust, while the creature in the cage is left untreated it will change with the elements over time revealing the price of isolation.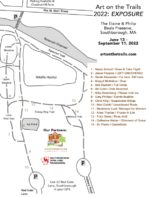 If you haven't visited the exhibit yet, you can find the trail map right (and more details about whose art is on display in a prior post here).
If you're unable to visit the trails, you can check out the gallery of photos and a link to videos here.