Wednesday, December 18, 2013
Exciting Women's Circle (10:00 am – 12:00 pm) @ Southborough Senior Center: New social circle for senior ladies. For more information, call the Senior Center at 508-229-4453
Technology Days (2:15 – 3:30 pm) @ Southborough Senior Center: Please join a group of Algonquin students for an hour of technology assistance. Students will answer all of your questions 

about cellphones, iPads, Laptops, e-readers and more. Please write your questions down ahead of time so that everything can be answered.
Holiday Festival (7:00 pm) @ Algonquin Regional High School: Holiday music performed by all of Algonquin's Choral groups and Orchestra. The evening starts in The Rotunda with performances by our a cappella groups – Algoncapella and Ladies First. Next up are small chamber groups and a jazz combo in the lobby of the auditorium, where student art will be on display. At 7:30, the concert in the auditorium begins featuring our orchestra and choral groups. The finale invites all alum to join the orchestra and chorus on the stage to sing White Christmas. Tickets are $5 for general public and $3 for students/seniors. There will also be a raffle and "spiritwear" for sale.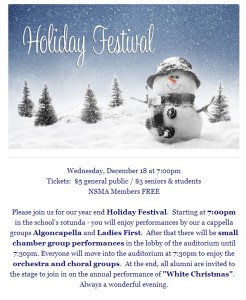 Thursday, December 19, 2013
Open House/Farewell to Jane Cain (4:00 – 7:00 pm) @ Southborough Public Library: Library Trustees invite the community to an open house to say goodbye to the departing Library Director. Come wish Jane well on her new endeavors.
Friday, December 20, 2013
Jewelry Class for seniors (9:30 am – 11:00 am) @ Colonial Gardens: Bring your old or unused beads to make a new bracelet or pair of earings. The workshop will explore different types of beads, stringing materials, types of closures, color and design. Suggested Donation: $3.00; Please pre-register by Wednesday.
Public School early dismissal – Beginning of winter break. Schools will resume on Thursday, January 2, 2014.
ARHS Winter Ball (9:30 – 10:30 pm)